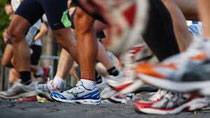 The Importance of Heel to Toe Drop in a Running Shoe
Something to pay attention to when buying running shoes is the heel to toe drop.  This can be defined as the offset or difference between the height of the cushion in the heel in comparison to the height of the cushion in the forefoot.  Traditional running shoes tend to have a high heel to toe drop, most commonly around twelve millimeters or so.  This type of configuration almost forces a runner to strike heel first, which can cause significant pain and injury due to the repetitive shock associated with heel striking.  
Recently, the running industry has seen an explosion of so called minimalist, or natural running shoes.  These shoes can be found with varying levels of cushioning, but what they do have in common is their lightweight construction and a lower than average heel to to drop, ranging from zero to eight millimeters.  Why is this important?  Well it comes down to the biomechanics of the individual runner.  When we run barefoot, our natural tendency is to land on the front part of our foot, which disperses shock into areas of our leg which were designed to absorb shock and return energy, i.e., the achilles tendon and calf muscle.  For this reason, a forefoot or midfoot strike is thought to reduce the risk of injury when compared to a consistent heel strike.  In comparison, a heel strike can transfer shock straight into the knee joints and spinal column, causing fatigue, pain and injury.  Shoes with a lower heel to toe drop mimic barefoot running to varying degrees, and encourage runners to strike on their forefoot or midfoot.  
Of course, every runner is different, and there are many heel strikers among the ranks of runners at every level.  The important thing is to recognize the type of runner you are and purchase shoes that best fit your natural biomechanics.  There are runners who will heel strike consistently no matter what type of shoe they are wearing.  For those people, a traditional shoe may be best due to the protection offered by the high levels of cushioning typically found in the heel area. 
If you are considering purchasing natural or minimalist running shoes, keep in mind that you should start out with a shoe that has a heel to toe drop closer to eight millimeters, and try to select a shoe with a high degree of cushioning in the forefoot.  This will make the transition easier for you and will result in less muscle soreness as your body acclimates.  Please keep in mind that you should transition into these shoes slowly, starting off with short, slow runs. You may experience soreness as the muscles in your lower legs adjust to the increased workload.  
Many running stores today have state of the art equipment which can analyze your gait and help you choose the right shoe for your running style.  I recently made the switch to a natural style running shoe and for me the benefits were tremendous.  Their light weight and natural shape make the shoes almost disappear on my feet.  When it comes to running shoes, for some, less really is more.   
By Sidney Nazario